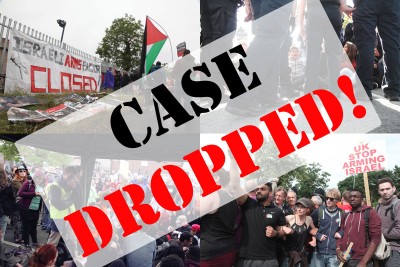 All charges against 19 anti-drone protesters have been dropped, after the Crown Prosecution Service admitted there was no realistic prospect of conviction.
The 19 were arrested for protesting at UAV Engines Ltd, in Shenstone, Staffordshire, on 6 July 2015, one year after Israel's attacks on Gaza in 2014.
UAV Engines Ltd is wholly owned by Elbit Systems, an Israeli company manufacturing military drones used to attack Gaza.
Speaking after the charges against her were dropped, Hilary Smith, said:
The Crown Prosecution Service has finally conceded they have no case. Taxpayers' money has been wasted on a police operation and prosecution, all based on a bogus injunction.

We protested peacefully at a factory owned by this Israeli company involved in drone wars against Palestinians. It is Elbit who should be in the dock.
Ryvka Barnard, Senior Militarism and Security Campaigner at War on Want, said:
It would have been a scandal for people to have been made criminals for protesting the manufacture of weapons used in war crimes. This is a victory for the right to protest.

As long as the UK continues its deadly arms trade with Israel, it remains complicit in crimes against the Palestinian people and the brutality of Israeli Apartheid. We will continue to fight for the rights of Palestinians.
On 1 July, UAV Engines obtained an injunction to prevent any demonstration within 250 metres of the site entrance. On 27 October, the Birmingham High Court removed the injunction ab initio, with the Judge declaring that it "had never existed", as the company had failed to disclose the history of peaceful protest at the site.
Ends
Notes to editors
According to the United Nations, the war on Gaza in 2014 resulted in 2220 Palestinian deaths, including 551 children.
The Hermes 450 drone is known as the "workhorse" of the Israeli Defense Forces. It is powered by a UEL 80-AR-1010 engine, a model manufactured by UEL, based at Shenstone, near Lichfield. UEL is wholly owned by Elbit Systems.
At the height of the Gaza war in 2014, 9 protestors occupied the roof of the Shenstone factory. The prosecution collapsed in February when the company refused to provide details of military export licences and investigations into its trade with Israel.
For more information and to arrange interviews contact Ross Hemingway on 07983 550 728.