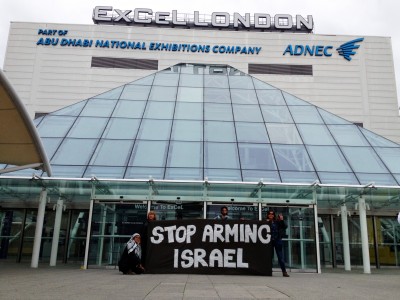 In September, DSEI, one of the world's biggest arms fairs, took place in London's ExCeL centre. Israel's three largest arms companies – Elbit, Israeli Aerospace Industries and Rafael – were present at DSEI 2015, and an Israeli national pavilion inside the fair hosted many smaller Israeli arms companies. In addition to Israeli arms companies, the country's major arms suppliers were there: Lockheed Martin, Boeing, and ThyssenKrupp among many others.
But DSEI was challenged with daily creative direct action, as activists held a week of action ahead of the fair to block equipment from entering the fair.
The week of action kicked off on Monday 7 September with a Stop Arming Israel themed day of action. Activists stopped a military vehicle from entering the site of the arms fair, and held the road for hours with "Stop Arming Israel" banners and chants.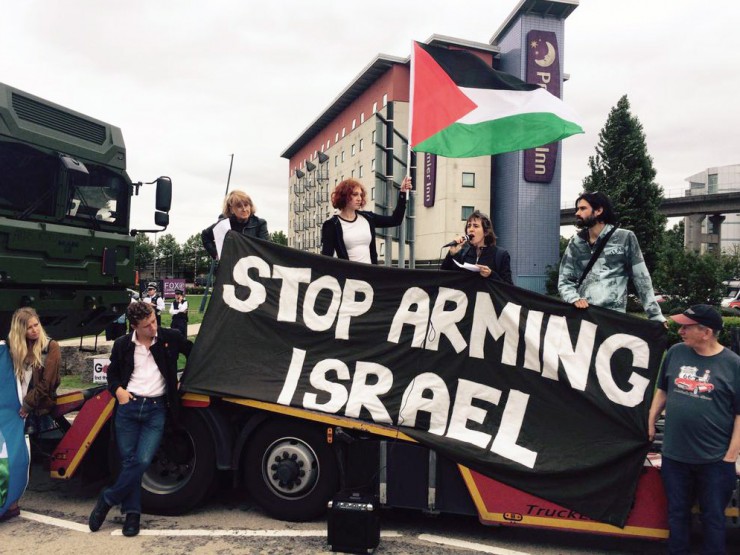 There were talks about the UK-Israeli arms trade and the Israeli companies exhibiting at DSEI. Moving testimonies by people in Gaza who have experienced the effect of these deadly weapons were read out. There was also a beautiful moment when over 50 people took part in a Dabke dance rehearsal while continuing to block the road.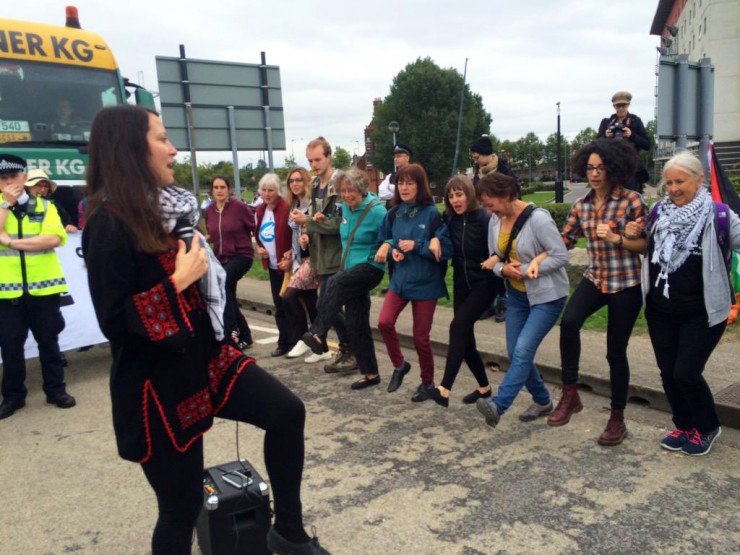 Activists had set up a "Pavilion of Shame" spoofing the Israeli pavilion at the arms fair. The Pavilion displayed model weapons and quotes about the "battle-tested" weapons. Alongside the Pavilion of Shame was a Pavilion of Remembrance, which celebrated Palestinian culture and was decorated with a quilt remembering the victims of drone attacks.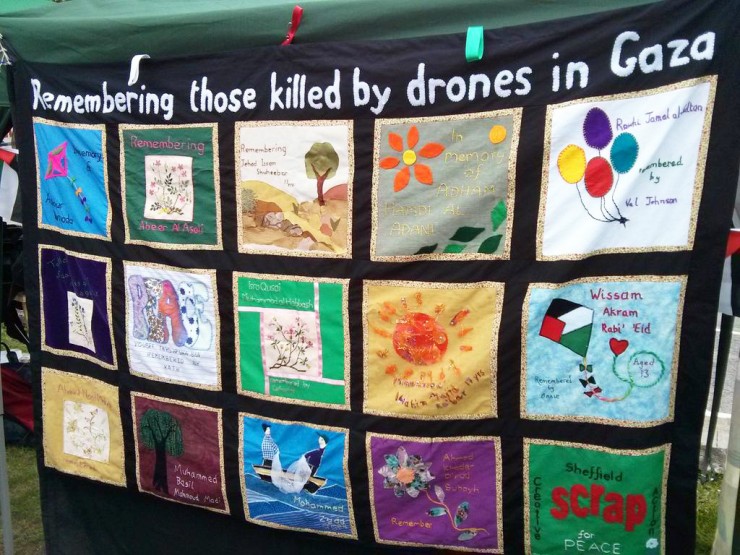 It was a really empowering day, and a great start to a week of action to #StopDSEI. The day brought together several grassroots groups and organisations including London Palestine Action, Boycott Israel Network, War on Want, Campaign Against Arms Trade, Palestine Solidarity Campaign and Stop the Arms Fair.