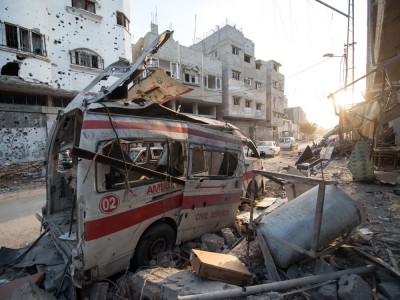 Amnesty International's new Black Friday report details evidence of horrendous war crimes committed by Israeli armed forces against Palestinian civilians during the summer 2014 assault on Gaza, and recommends that "all states should suspend the transfer to Israel of arms, munitions, weapons and military equipment".
The Black Friday report is a forensic investigation into four days of devastating Israeli bombardment of Rafah in the southern Gaza strip, which left 135 Palestinian civilians including 75 children dead, many more injured, and hundreds of homes and other civilian buildings destroyed or damaged.
The Israeli assault began when Israeli forces invoked the Hannibal Directive – a massive escalation of firepower with the purpose of preventing an Israeli soldier from being captured. Israeli artillery began "firing at a maximum fire rate" into populated areas, and Palestinian civilians, having left their homes in anticipation of an agreed ceasefire, were slaughtered.
Palestinian witnesses described jets, drones, helicopters and artillery raining fire at pedestrians and vehicles at the intersections, indiscriminately hitting cars, ambulances, motorbikes and pedestrians.
The report contains strong evidence of Israeli war crimes and crimes against humanity, and as our own Arming Apartheid report shows, by supplying Israel with military technology and by participating in weapons development programmes with Israel, the UK is complicit in these crimes.
The need to stop arming Israel has never been clearer. Together we must take action to end the UK's arms trade with Israel.